Why simple-webhosting.eu?
Easy control panel
We designed a control panel that gives our customers optimal control over their websites. It allows you to easily add and manage domains and subdomains, regardless where they are registered.
Features include: adding MySQL databases, editing php.ini and other configuration files, adding cron jobs and viewing log files. Redirects, rewrite rules, custom 404 pages and HTTP Authentication can be set for every domain.
Virtualized environment
Virtualization based on OpenVZ makes our shared web hosting accounts as powerful and secure as VPS hosting. Every customer has their own Virtual Private Server, a virtual environment that provides the functionality of a dedicated server. This is more secure than traditional shared web hosting, and allows for more customization, for the same price.
Reliability: uptime and speed
Our plans may be cheap, but we do not overload our servers with many customers at all! We provide a 99.9% uptime guarantee, and do not tolerate slow loading websites.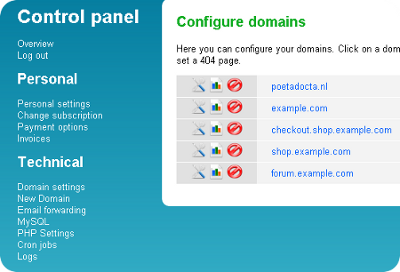 30-day money back guarantee
Try us! If you're not happy after a month of testing, we're more than willing to refund your money - no questions asked. Rather test us without paying at all? Request a free trial to our sales team.
Amazing support
We provide email support 24 hours a day, 7 days a week and 365 days a year. Emails will usually be answered within a few hours. Plus, we actually take time to read your email and find the best solution.